No Signal: Social Media Marketing Challenges in Academic Libraries
Keywords:
Library and information science, Social media, Academic libraries, Phenomenological, Philippines
Abstract
The growing underutilization of library resources and services has prompted colleges and universities to apply marketing strategies like social media to keep libraries relevant and responsive to their stakeholders' needs. This phenomenological study aimed to explore librarians' challenges and strategies in marketing academic libraries in the Davao region using social media. Data were gathered through key informant interviews with nine librarians who were purposively selected based on the study's inclusion criteria. Results showed that social media marketing has become a trend among libraries and entails challenges. Five themes emerged: accessibility, no clear social media marketing plan, lack of user engagement, additional tasks, and issues and concerns in library social media. Librarians used common marketing strategies such as orientation and instruction and cited innovative strategies and best practices in promoting their library through social media. Lastly, librarians have gained insights in marketing academic libraries using social media, presented into four themes: enhanced library image, improved library services, gaining new skills, and developing a sense of responsibility. To further strengthen social media use in academic libraries, librarians are urged to formulate and intensify a social media marketing plan as a basis for future library social media marketing activities.
References
See references in article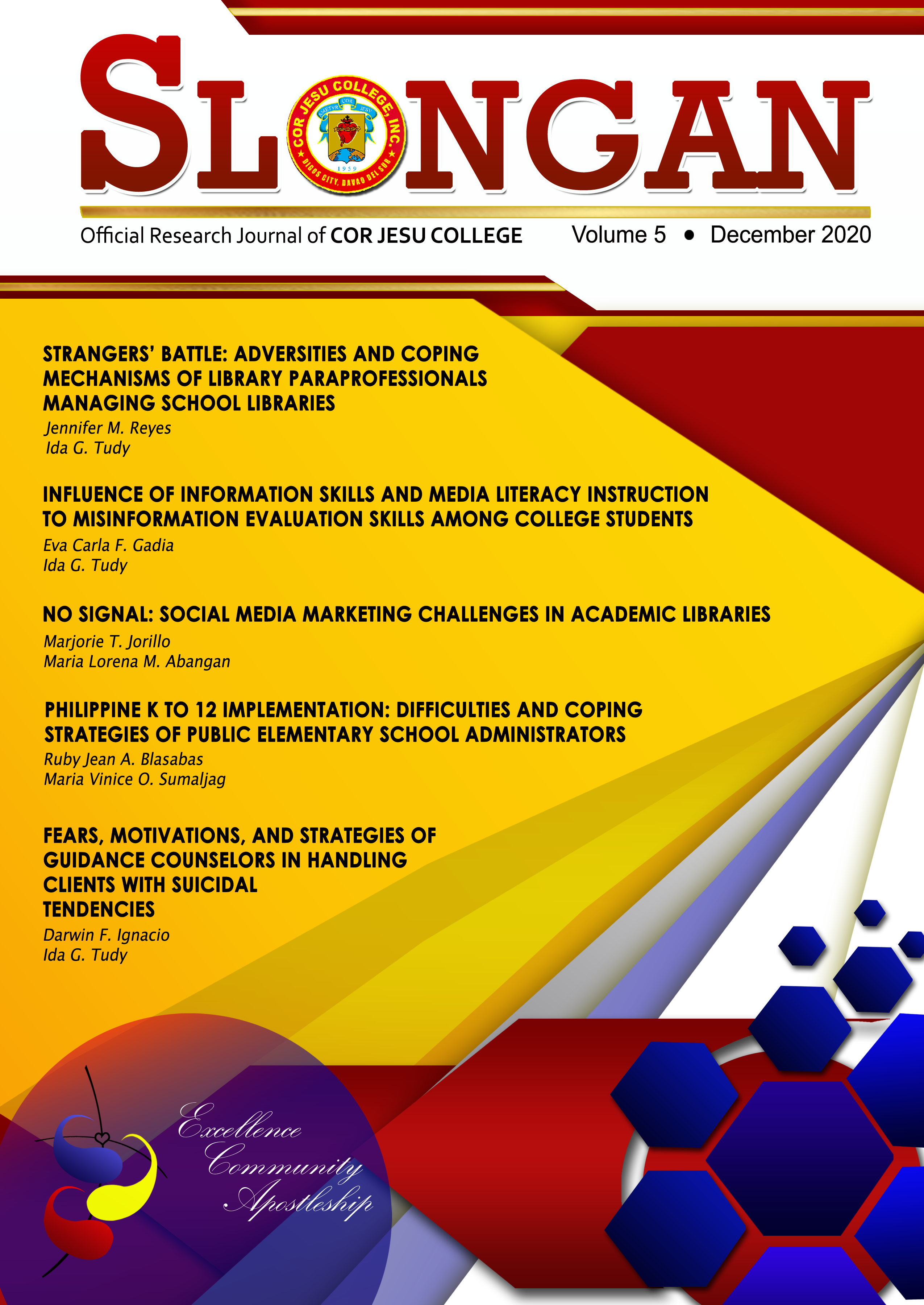 Downloads
How to Cite
Jorillo, M., & Abangan, M. L. (2021). No Signal: Social Media Marketing Challenges in Academic Libraries. SLONGAN, 5(1). Retrieved from https://rpo.cjc.edu.ph/index.php/slongan/article/view/24
License
Copyright (c) 2021 Marjorie T. Jorillo, Maria Lorena M. Abangan
This work is licensed under a Creative Commons Attribution 4.0 International License.
Attribution-NonCommercial-NoDerivatives 4.0 International
(CC BY-NC-ND 4.0)
Under the following terms:
No additional restrictions — You may not apply legal terms or technological measures that legally restrict others from doing anything the license permits.
Notices:
You do not have to comply with the license for elements of the material in the public domain or where your use is permitted by an applicable exception or limitation.
No warranties are given. The license may not give you all of the permissions necessary for your intended use. For example, other rights such as publicity, privacy, or moral rights may limit how you use the material.