Employers' Satisfaction on the Performance of New College Graduates
Randy A. Tudy, PhD

Graduate School Faculty & Director, Research and Publication Office, Cor Jesu College
Keywords:
Education, Employer Satisfaction, Job Performance, Character, Computer skills, Descriptive, Philippines
Abstract
Employers' feedback on the performance of new college graduates is an important piece of information that schools must consider to determine the relevance and responsiveness of their curriculum, programs, and services.  This study aimed to determine the satisfaction of employers on the performance of new college graduates of Cor Jesu College, Philippines.  It employed descriptive research design.  The respondents were purposely chosen who were managers and personnel in-charge of 40 companies and institutions in Davao region.  Results revealed that all 19 skills (Specific job-related knowledge, Specific job-related skills, Oral communication, Written communications, Comprehension, Math skills, Computer skills, Critical thinking, Problem solving, Research and analysis, Teamwork, Organization and planning, Time management, Quality of work, Productivity, Creative and Innovative, Adaptable, Responsible and Character ) received highly satisfactory rating.  Moreover, it can be argued that technical skills, such as computer skills, and soft skills (character) were among the top skills that the employers recognized among the graduates of Cor Jesu College. The results affirmed the effectiveness of the school's rigid training in response to the skills needed in the industry. The implication of the study on the continuous improvement in the curriculum, programs, and services are discussed.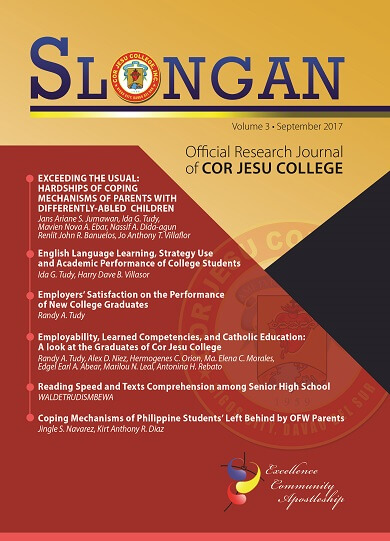 How to Cite
Tudy, R. (2017). Employers' Satisfaction on the Performance of New College Graduates. SLONGAN, 3(1), 22. Retrieved from https://rpo.cjc.edu.ph/index.php/slongan/article/view/13
Copyright (c) 2017 Randy A. Tudy, PhD
This work is licensed under a Creative Commons Attribution 4.0 International License.