A Rapid Assessment on the Industry Needs of Davao del Sur
Randy A. Tudy, Ph.D.

Dean of Graduate School Cor Jesu College

Gladys M. Garcia

Research Associate Cor Jesu College
Keywords:
Business Management, Industry Needs, Rapid Appraisal Process, Philippines
Abstract
Job mismatch continues to be a problem in many countries and it poses a real challenge to the academe. In the Philippines, the Commission of Higher Education (CHED) imposes a moratorium on selected courses. One of the main reasons of this action is job mismatch. This study aimed to determine the needs of the industries in the province of Davao del Sur. It employed qualitative design using the a Rapid Assessment Process (RAP). Key Informant Interviews (KIIs) of human resource managers or recruitment in-charge of participating companies were conducted. The findings revealed that computer literacy, oral and written communication skills, interpersonal skills, possession of the required industry-specific skills and good character are essential factors the industries look for when hiring a potential employee. These industries also expressed expansion plans which would mean additional manpower in the near future. These identified core skills, except for some industry specific skills, are provided in the curriculum of the schools within the province. Moreover, the implementation of the K to 12 Program, which integrates TESDA competencies, is a welcome development. However, the schools must level up and address the specific needs in order to be relevant and responsive to the needs of the industries.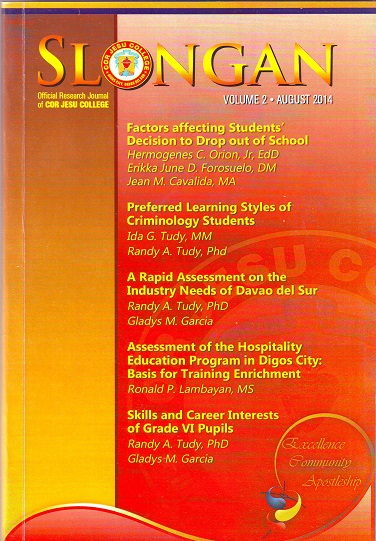 How to Cite
Tudy, R., & Garcia, G. (2014). A Rapid Assessment on the Industry Needs of Davao del Sur. SLONGAN, 2(1), 11. Retrieved from https://rpo.cjc.edu.ph/index.php/slongan/article/view/6
Copyright (c) 2014 Randy A. Tudy, Ph.D., Gladys M. Garcia
This work is licensed under a Creative Commons Attribution 4.0 International License.