Strangers' Battle: Adversities and Coping Mechanisms of Library Paraprofessionals Managing School Libraries
Keywords:
Library and information science, Library and information centers, Library in-charge, Phenomenological, Philippines
Abstract
This phenomenological qualitative research focused on library paraprofessionals' adversities and their coping mechanisms managing a school library. Nine (9) library paraprofessionals from the provinces of Davao del Sur and Davao Occidental took part in this study through Key Informant Interviews (KII) . Results revealed that they wrestled with heavy workloads, lack of training and background in library management, poor implementation of RA 9246, and absence of training opportunities. In coping with these, they developed a strong support system and have kept a positive attitude towards their work. They also gained insights, presented into three (3) themes: making the library a priority, keeping a positive attitude and collaborating with library organizations. To fully attain effective and efficient school library services, the Department of Education (DepEd) called for the strict implementation of Republic Act 9246. Also, librarians are prompted to collaborate with professional organizations in advocating and standing for the strong implementation of the said law.
References
See references in article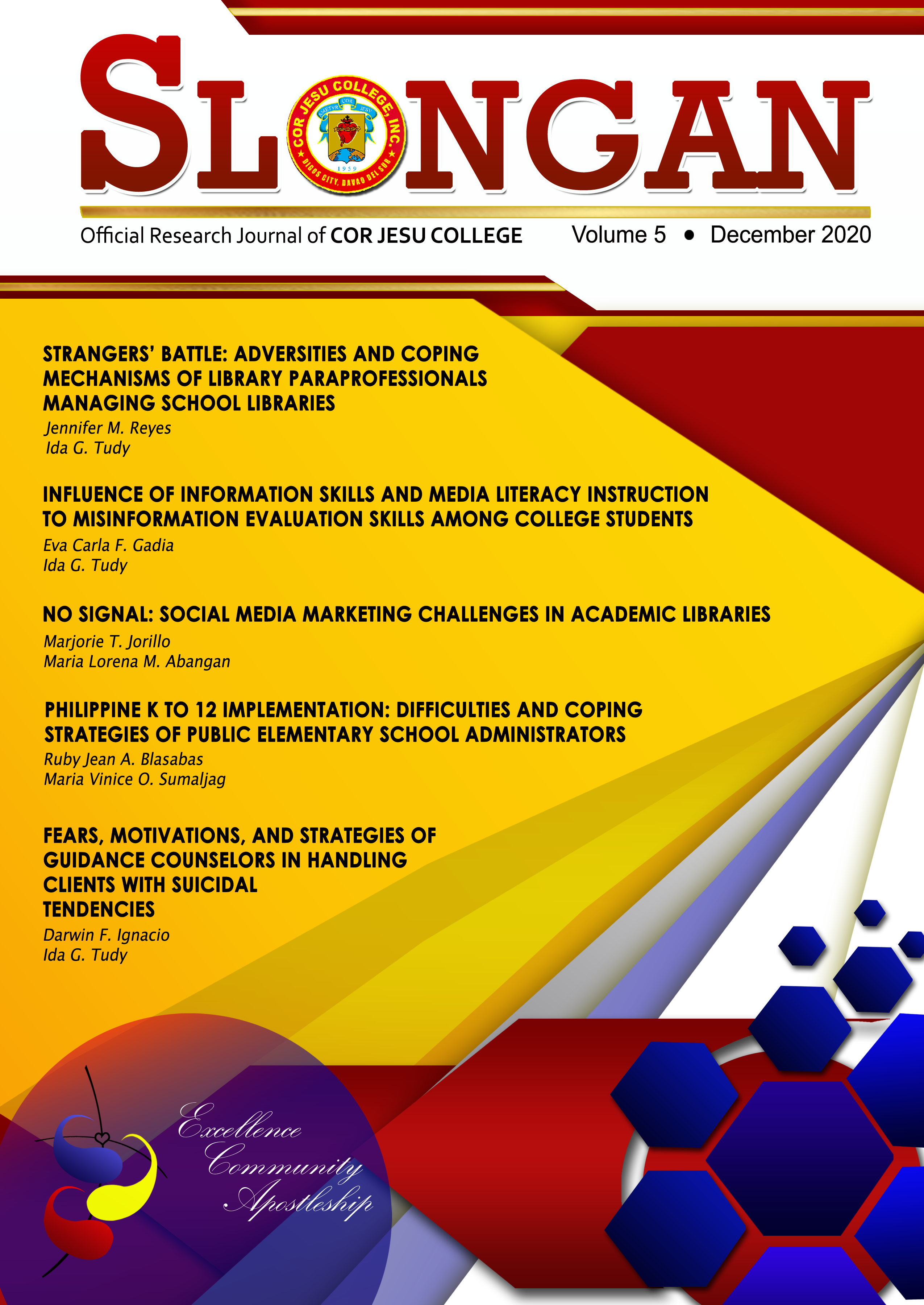 Downloads
How to Cite
Reyes, J., & Tudy, I. (2021). Strangers' Battle: Adversities and Coping Mechanisms of Library Paraprofessionals Managing School Libraries. SLONGAN, 5(1). Retrieved from https://rpo.cjc.edu.ph/index.php/slongan/article/view/22
License
Copyright (c) 2021 Jennifer M. Reyes, Ida G. Tudy
This work is licensed under a Creative Commons Attribution 4.0 International License.
Attribution-NonCommercial-NoDerivatives 4.0 International
(CC BY-NC-ND 4.0)
Under the following terms:
No additional restrictions — You may not apply legal terms or technological measures that legally restrict others from doing anything the license permits.
Notices:
You do not have to comply with the license for elements of the material in the public domain or where your use is permitted by an applicable exception or limitation.
No warranties are given. The license may not give you all of the permissions necessary for your intended use. For example, other rights such as publicity, privacy, or moral rights may limit how you use the material.