Fears, Motivation, and Strategies of Guidance Counselors in Handling Clients with Suicidal Tendencies
Keywords:
Guidance and counseling, suicide, phenomenology, Philippines
Abstract
Across the globe, suicide is now a typical behavior among the youth in the contemporary period. This phenomenon challenges school guidance counselors on how they reach out to suicidal clients effectively. However, as they help suicidal clients overcome their unresolved issues, they are also vulnerable to the counseling sessions. The purpose of this phenomenological qualitative study is to explore the fears, motivations, and strategies of guidance counselors in handling clients with suicidal tendencies. Using purposive sampling, nine (9) key informants willingly participated in the semi-structured interviews. Results revealed three themes as regards their fears. They were (1) apprehensive about suicidal clients' wellbeing, (2) occupational vulnerability, and the (3) adverse effects of counseling suicidal clients. Furthermore, there were two emerging themes as regards their motivations. These were (1) professional calls to help and (2) counseling as an instrument for change. Lastly, two themes were extracted for their strategies, namely, (1) reliance on counseling tools and techniques and (2) provision of a support system.
References
See references in article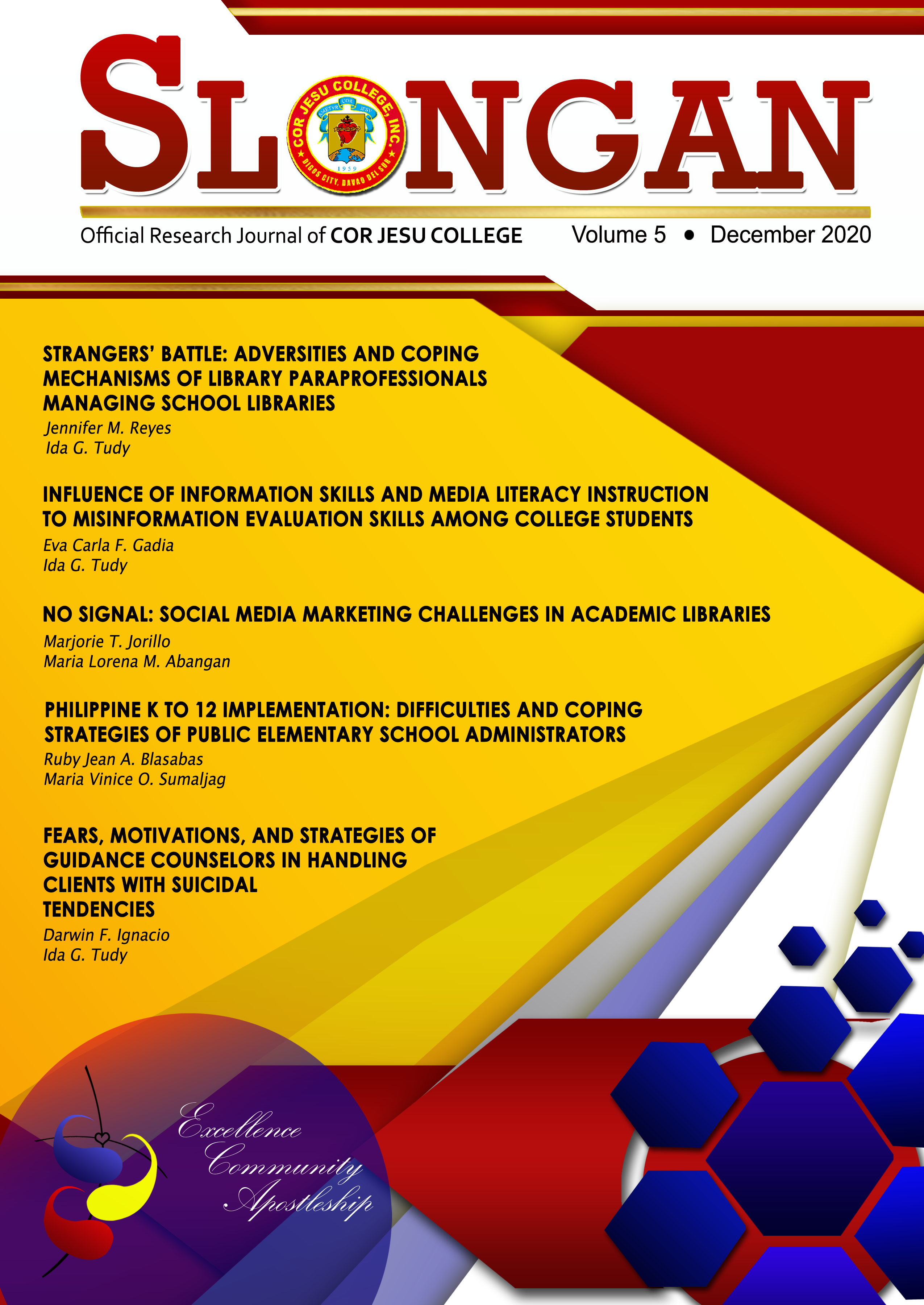 Downloads
How to Cite
Ingacio, D., & Tudy, I. (2021). Fears, Motivation, and Strategies of Guidance Counselors in Handling Clients with Suicidal Tendencies. SLONGAN, 5(1). Retrieved from https://rpo.cjc.edu.ph/index.php/slongan/article/view/26
License
Copyright (c) 2021 Darwin F. Ignacio, Ida G. Tudy
This work is licensed under a Creative Commons Attribution 4.0 International License.
Attribution-NonCommercial-NoDerivatives 4.0 International
(CC BY-NC-ND 4.0)
Under the following terms:
No additional restrictions — You may not apply legal terms or technological measures that legally restrict others from doing anything the license permits.
Notices:
You do not have to comply with the license for elements of the material in the public domain or where your use is permitted by an applicable exception or limitation.
No warranties are given. The license may not give you all of the permissions necessary for your intended use. For example, other rights such as publicity, privacy, or moral rights may limit how you use the material.